Summer Holiday in Salzburger Land
Hiking, Biking, Golfing… Discover the Radstadt Countryside

Impressive alpine pastures, beautiful views, blue lakes, and numerous recreational activities – this is the description of the summer holiday that awaits you in Radstadt. Discover the spectacular region around Bleiwanghof. Start your hiking and biking directly from the house. Golf enthusiasts love teeing off between the Radstadt Tauern and Dachstein mountains.  Families enjoy the outdoor pool in Radstadt as well as the minigolf course at the sports center.  Spend your summer with us in Radstadt in the Salzburg Region.
Hiking & Climbing the Mountains Around Radstadt
Best Labeled Hiking Trails with different levels of difficulty and distance profiles
Easy hikes for families and casual walkers, for example the Rossbrand Hike with a panorama view
Climbing trips on Dachstein for a real mountain experience
Salzburg Almenweg (from Tennengebirge over Tauern to Dachstein) that passes through Radstadt
Family Hiking Experience at "Alles Alm" with 8 themed kids play areas
Lunch stops at traditional alpine huts
Best part of the hiking region: free hiking-test center in town
Use the Radstadt hiker buses for only € 1 with your Salzburger Sportwelt Card
Begin your hikes directly from Bleiwanghof
Activities on Two Wheels: Cycling, Mountain Biking & E-Biking
Enjoy a total of 250 km of bike & mountain bike trails in Radstadt & in the Region
Easy, beautiful Bike Trails for families & casual bikers, for example a section of Enns Cycle Path.
For daredevils and experienced cyclists: marked Mountain Bike Trails with varying degrees of difficulty
Come enjoy E-Biking around the Radstadt alpine area
Charging stations for e-bikes can be found in Radstadt's town square
Radstadt Outdoor Pool has a 40 m-long waterslide, two swimming pools, a toddler pool and a sunbathing area
The pool is only 500 m away from the farm
Additional Swimming: 4 Lakes within 20 km of Bleiwanghof
Horseback Riding: total of about 160 km of trails in Salzburger Sportwelt
Trails for beginners as well as advanced riders
Horseback riding in stables and on horse farms
Horseback Riding at Gut Weissenhof or Huzulengestüt Mathiasbauer in Radstadt
Golf, Tennis & Adventure Sports in Salzburger Sportwelt
Scenic 18-hole championship course, 9-hole short course and much more at Radstadt Golf Course
Highlight: The "Birdie-Jet" Golf Gondola
Radstadt Golf Academy with courses for everyone
The golf course is only a 3-minute drive from Bleiwanghof
7 Tennis courts at the Radstadt Sports Center
Fun for the whole family: mini-golf at the sports center
Fishing possibilities at Taurach
Adventure Sports in the region include Canyoning, Kajaking, Paragliding and much more
Have Fun & Relax at Therme Amadé in Altenmarkt im Pongau
30.000 m² of wellness & action at Therme Amadé
Enriched indoor relaxation pools & outdoor pools filled with salt water from Bad Ischl
Austria's only single-looping water slide with a rocket launch, black hole slide, funnel slide and wave pool
Sport pool with 4 lanes & diving platforms
Children's pool with snake slide
Separate sauna area with various themed saunas: amethyst sauna, pinewood sauna, alp-panorama sauna, steam bath, hammam, etc.
Open all year-round, no matter the weather
Approximately 6 km from the Bleiwanghof farm
SalzburgerLand Card & Salzburger Sportwelt Card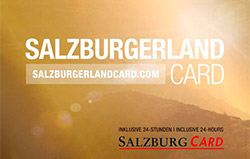 With the SalzburgerLand Card you will be granted free entry to over 190 attractions. You will also receive various other discounts. The card is available at Bleiwanghof.
Salzburger Sportwelt Card
You will receive the Salzburger Sportwelt Card upon your arrival at Bleiwanghof free of charge. Take advantage of the reduced entrance fees to destinations and attractions, chair lifts and gondolas, as well as swimming pools that are located in the Salzburg Sportwelt.